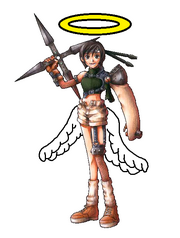 The Angel Digimon derived from Yuffie from Final Fantasy Series and Ophanimon. The Ancient Digimon that was said to be extinct and She has the Ability to Fly over the Digital World. It was a Strongest foe of Lucemon (Frontier). This Digimon was a Member of Valkyriemon
Human
Attribute
Edit
Vaccine
Mega
Prior Forms
Edit
Takato Matsuki
Special Attacks
Edit
Emerald Blaze (Mugen Phazer): Throw the Green Fiery Kunai and Turns the Digimon with the Mega or Ultimate Levels into Rookies.
Ad blocker interference detected!
Wikia is a free-to-use site that makes money from advertising. We have a modified experience for viewers using ad blockers

Wikia is not accessible if you've made further modifications. Remove the custom ad blocker rule(s) and the page will load as expected.