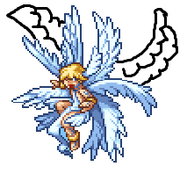 Mythical Angel Like Samurai Digimon derived from the Mythical Susanoo and Kaede from Last Blade Series. It was a Older Brother of the Yurimon. It protects the Secret Treasures of the Digital World and it's Younger Sister from Juubimon. He was the Founder of the Celestial Bijuumon. He is the Leader of the Valkyriemon.

Attribute
Edit
Vaccine
Yurimon (Younger Sister)
Human
Utlimate
Kyochi Katsu
Next Forms
Edit
Harutomon
Discovery
Edit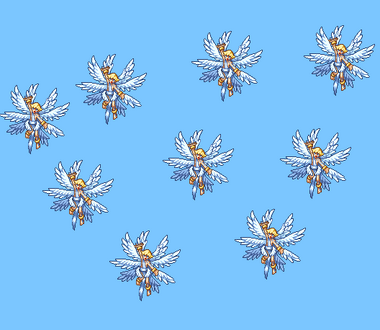 The Digimon was founded in the Cave sleeping and the Kaedemon are in Groups, Herds and Packs that search for Food in the Real World. Although it is wise to take good care the Kaedemon. The DigiEgg Hatches into a young Kaedemon after 8 Days.
Special Attacks
Edit
Eden's Thunder (Matane no Tsurugi): Uses the Thunder by a Big Clapping Hand to Separate the Data of the Digital World from Lucemon.
Eden's Barrier (Ame no Kurakumo): Summons the Mythical Sword and Uses it Cut opponents in half and Protects any Digimon who have been innocent.
Harutomon
Edit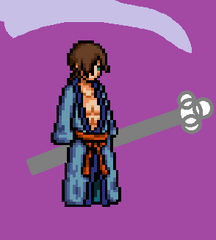 A Mythical Shinobi like Angel derived from God the Father and the Sage of Six Paths From Naruto Series. It is a Sage like Digimon that Protects the Digital World from the Juubimon and Lucemon. This Digimon was turned into a Junjuriki.
Attribute
Edit
Vaccine
Human
Mega
Prior Forms
Edit
Kaedemon
Special Attacks
Edit
Creation Barrage (Mugen no Jutsu): Uses the Staff to Separate Juubimon's Fractal Codes into 3 of the Celestial Bijuumon.
Sealing Blade (Fuuinjutsu: Shippuden): Seals any Evil Digimon in it's Own body with it's Magical Master Sword.